______________________________
How has your project changed since the first year of operation?
Yana Laputina: "Beauty Time" was opened as a clinic of one leading surgeon – Otari Gogiberidze. And we planned to work in this format for a long time. Then we realized that in order to develop the business and justify the trust of our patients, who cannot always afford Otari surgery, we must offer a wider choice of specialists and services. Over time, we have new surgeons, cosmetologists, operations, procedures. What has remained unchanged is professionalism, quality and medical expertise. And of course, we value our reputation very much.
Otari Gogiberidze: The clinic, of course, has grown seriously: more equipment, specialists, and opportunities have appeared. Today we have a very well-coordinated work of plastic surgeons and cosmetologists. Surgeons prescribe operations, and cosmetologists help solve cosmetic problems or recover using hardware or injection techniques. Real team work.
What's new this year?
Yana Laputina: For example, the Vivace device is a microneedle Rf-lifting. We also bought the Hydra Facial device, it has been on the market for a long time and wonderfully complemented our capabilities. An important achievement of the doctors of the clinic is the creation of complex cosmetology protocols, which consist of several hardware and injection techniques, which makes it possible to always achieve a high-quality, prolonged effect.
They say it's better not to do business with loved ones, but you succeed – what's the secret?
Yana Laputina: We have known each other since 2006. This is a long term partnership. The main secret is a clear separation of functions. Otari Teimurazovich is completely immersed in medical issues and deals with this side of our work, and I deal with administrative tasks, promotion, finances, positioning the clinic on the market.
Otari Gogiberidze: We understand each other well. Yana knows everything about plastic surgery (her dad is a famous plastic surgeon), she manages business processes and the clinic perfectly, and I love my job. Everyone does what they love and know best.
Yana, did Otari perform surgeries on you?
Yana Laputina: Yes, then I was not his wife – in 2007 he performed a rhinoplasty on me, ideal, as it seems to me. This year I also had mammoplasty, but with our other doctor, Elena Alexandrovna Mironova. The result is excellent. In medical circles, there is a sign – you can not operate on loved ones. As the owner of the clinic and the patient, I can say that I trust all our specialists.
Source: Hellomagazine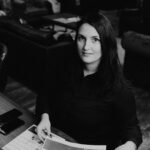 I am Amanda Gans, a motivated and ambitious professional in the news writing industry. With over five years of experience in this field, I have developed an eye for detail and an ability to craft stories that captivate readers. I currently write for Gossipify, where I specialize in beauty & celebrities news. My passion lies with exploring the world of beauty through writing, interviewing experts and developing articles that are both informative and entertaining.