______________________________
Gwyneth Paltrow's Goop lifestyle portal has published a review of 5 favorite cosmetics for 35-year-old Maria Sharapova, who became a mother for the first time last summer. The ex-tennis player's beauty routine is quite simple, and she pays special attention to moisturizing her face. — Maria lives in Los Angeles, and the scorching California sun does not affect the skin in the best way.
I don't always have time for a full skincare routine in the morning, but I never forget my SPF. — the most important step in my morning routine, says the star.
Her beauty favorites include Jillian Dempsey eye patches, Goop lip balm, Westman Atelier nude palette, Supergoop sunscreen and Therabody LED therapy device, which are both startups Maria invests in.
Maria Sharapova's pregnancy became known in April of this year, when she announced the good news to subscribers on social networks. And a little later, the father of the future baby, the fiance of the tennis player, 42-year-old British businessman Alexander Gilks ​​published a whole series of photos of the pregnant bride. Sharapova confirmed her romantic relationship with Gilks ​​in October 2018, and in December 2020, her lover proposed to her.
Maria retired from sports on February 26, 2020. During her tennis career, she has won 39 WTA titles, including five Grand Slam trophies. The tennis player also won the Federation Cup (2008) and the silver medal of the 2012 Olympic Games.
Source: Hellomagazine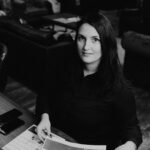 I am Amanda Gans, a motivated and ambitious professional in the news writing industry. With over five years of experience in this field, I have developed an eye for detail and an ability to craft stories that captivate readers. I currently write for Gossipify, where I specialize in beauty & celebrities news. My passion lies with exploring the world of beauty through writing, interviewing experts and developing articles that are both informative and entertaining.