______________________________
Anna, the last year has been very eventful for you. You started a solo career, released a debut album. How do you deal with stress and anxiety?
I got stronger, stronger and better when I was weak. My new song "Night in the Kitchen" is about one of those moments. About seven years ago, when my career was just starting to develop, I felt very lonely. I was alone in a strange city … I remember once lying on the floor and thinking that I simply did not want to live. And at that moment I remembered my parents – mom and dad would never forgive me or myself if I did something bad to myself. The next morning I firmly decided to conquer this world. And never give up.
I know that you are grateful to all your listeners. But especially for the haters. For what?
I was always criticized for everything – no matter what I did, no matter how I looked, no matter what I ate, no matter how I sang. It used to upset me a lot, and then I realized: they don't discuss only those who are not interesting. Now I even like to make fans out of haters. At my concerts, I always look into the eyes of each of the audience. And in this crowd, I always cling to some guy who may have had a fight with his girlfriend at home, but still came with her to my performance. He stands – and I feel how everything infuriates him. Such people act on me like a red rag on a bull – I will crawl out of my skin, but in the end I will make him sing and dance. So haters give me good motivation to be better. (Laughs)
And they say that the most captious critics are ourselves. How are you with this?
I am a very self-critical person. Like any girl, I can cry if something doesn't work out. Even if it's just poorly drawn arrows on the eyes. But I learned to quickly pull myself together – I just repeat to myself: "You are great, you sing beautifully, you are a kind person, that's enough. Look better next time." You need to be able to forgive yourself for flaws, especially for little things – for example, when a narrow skirt does not fasten after a hearty dinner. (Laughs)
You are in great shape right now. What helps keep it going?
Healthy optimism and the ability to listen to your body. I believe that you should not starve or force yourself to go on a diet. If you want chocolate, eat it. Don't go with a sad face! But what you need to do is get enough sleep and do not forget to drink water. I have a few rules. While still lying in bed, I drink a large glass of water – this helps to wake up and start important processes in the body. Then I wash my face with ice water – from this my face becomes fresh, a healthy blush appears. And I definitely do lymphatic drainage massage – simple movements, and how quickly swelling goes away thanks to them!
Is your ideal face tone your own work, or are there makeup artists who do makeup before events, at concerts, in everyday life?
Of course, I use the services of professionals, but I can make up myself. I really love decorative cosmetics, I have about 40 foundations alone – for all seasons and under any conditions. Since I paint often, my face gets tired of any foundation, even if it is incredibly good, that's why there is such a variety. But in general, I am a fan of different jars and bottles – you can't even imagine how many different creams, lotions, gels and other personal care products I have at home.
On tour with you, probably, a whole suitcase with cosmetics is going?
Indeed, I can't live without my jars. If I forget my shower gel, I really cry. And not because the hotel does not suit me. I just love my fragrances to smell like coconut or almond milk. In the summer, something citrus definitely appears in my collection, although I am cool about such smells.
Since we are talking about fragrances, tell us about your favorite perfume.
My favorite is Amouage Opus V. I love almost all Tom Ford fragrances. Recently in the Emirates I bought a bottle of Versace from a rare collection with notes of ginger. It was an unexpected purchase, since I have not used perfume at all for the last three months.
Why?
They say that perfume can drown out the smell of your body, and you stop feeling. I thought, suddenly the truth, and changed the perfume to essential oils.
And how did this experiment go?
With an unexpected discovery. I used to love pouring perfume, so to speak, from the heart. And then I do a zilch of some neutral aroma – and I understand that I am suffocating. What was it like for people to be next to me when I was all fragrant?!
Do you have a whole collection of perfumes, as well as cosmetics?
More than 80 bottles – for a different mood and image. If I go to an informal event, I want to be light and smell of tenderness. For some important meetings, I choose a more serious fragrance so that people understand that they have a confident woman in front of them. For the evening and for concerts, I choose spicy smells. I love chypre fragrances that envelop those around them in a plume, there is some kind of magic in them. But better than any means, a woman is adorned with a smile and a happy look. I advise every girl to never forget about it.
Source: Hellomagazine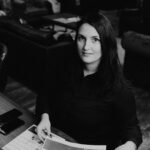 I am Amanda Gans, a motivated and ambitious professional in the news writing industry. With over five years of experience in this field, I have developed an eye for detail and an ability to craft stories that captivate readers. I currently write for Gossipify, where I specialize in beauty & celebrities news. My passion lies with exploring the world of beauty through writing, interviewing experts and developing articles that are both informative and entertaining.