photo: courtesy of Tatiana Kuchařová
Tatiana had been thinking about her own perfume for a long time. Fragrances and aromatherapy are her great hobbies, which is why she decided to team up with Tomáš Arsov, who, like Tatiana, puts a big piece of his heart into fragrances and his business in general. After more than six months of collaboration, which Tatiana is proud of, a very pleasant floral-fruity fragrance was created that expresses self-confidence, unrestrainedness and individuality.
"I really like smells in general, I perceive them all around me. They can evoke memories of beautiful moments and are related to new energy." he says Tatiana Kucharová.
The basic ingredient of perfume ICONIC by Tatiana consists of lilac, to which the artistic duo mixed peach blossom, Lebanese cedar, green tea, bergamot and peonies. This resulted in an intoxicating cocktail of fresh fragrance that every woman will fall in love with.
The fragrance, in which Tomáš and Tatiana imprinted her identity, including the unbridled wild woman that Tatiana (as well as every woman) carries in herself, reflects a perfume that is created especially for women and girls to strengthen them in any life stage and situation.
photo: courtesy of Tatiana Kuchařová
The combination of the individual ingredients with the given musk creates a changing scent that makes a different component of the perfume stand out on each person, making the perfume unique. Together with Tomáš Arsov, Tatiana Kuchařová also prepares body lotion and shower gel in the same perfume. About the new perfume, they only revealed with a smile that Tatiana already has a clear idea of ​​the new visual, but they are keeping more to themselves for now.
In addition to the new perfume, Tatiana already has a third author's clothing collection, a line of hair care and a make-up line. "I enjoy work, it's my hobby and I like to take these challenges and opportunities and turn them into something productive and beautiful," Tatiana revealed at the press conference on the occasion of the official welcome of the new member of the ICONIC family.
photo: Moda.cz

Source: Moda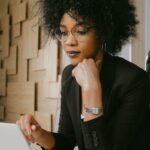 Camila Luna is a writer at Gossipify, where she covers the latest movies and television series. With a passion for all things entertainment, Camila brings her unique perspective to her writing and offers readers an inside look at the industry. Camila is a graduate from the University of California, Los Angeles (UCLA) with a degree in English and is also a avid movie watcher.