Yesterday, a gala dinner was held in the premises of the Gran Fierro restaurant in Prague, which was prepared by the H&M brand for its long-term cooperating influencers. Among the guests who wore pieces from the new exclusive collection Metaverse Design Storywere not missing Zorka Hejdová, Karolína Wernerová, Vanda Janda, Luboš Kulíšek with friend Honza Hrdlička, Natálie Kotková, Lukáš Zachara and more. The collection, which the brand will launch on its e-shop tomorrow, December 8, encourages self-expression and supports sustainability. The brand's designers drew inspiration from the world of the metaverse, where fashion can be enjoyed unencumbered by the laws of gravity or societal expectations. The ethereal, partly cyberpunk aesthetic of shape-shifting avatars was also an inspiration. There is also the natural beauty of the physical world, images of planet Earth seen from space or cells under a microscope.
Must Have pieces
The collection offers 22 original and extravagant women's and 7 men's silhouettes. Here you will find both elegant black and brown ensembles with sexy details, as well as striking tulle or ruffled dresses in bold colors. There are elaborate embroideries, glittering sequins, layering and original prints. The collection also offers very extravagant accessories that perfectly complete individual looks. All pieces from the collection were created with a focus on circularity and sustainability.
"I fell in love with this voluminous dress with a corset waist at first sight! I enjoy both the design and the distinctive neon yellow color, which has been one of my favorites lately." she enthusiastically describes her outfit Zorka Hejdová.

Photo: H&M, Jan Berghauer
The collection also thinks of men and brings an oversized black bomber jacket with beads, which was worn by stylist Míra Romaniv, or a green faux fur coat with a hood, which young actor Vojtěch Babišta wore to the event together with a purple sweatshirt. The couple Luboš Kulíšek and Jan Hrdlička reached for a velvet dark green set, which they finished off with interesting and distinctive metallic jewelry from the collection.
"We were completely blown away by this collection! Men's pieces are original, well-designed and at the same time very comfortable. My friend and I decided on a dark green jacket and pants set, which we will definitely wear outside of this event. We have chosen jewelry for it that is very interesting and distinctive and beautifully complements the whole outfit. I have rings and Honza has men's earrings," he says Luboš Kulisek.

Photo: H&M, Jan Berghauer
Materials in the sense of circularity
Circularity is a key element for the Metaverse Design story collection. The main goal is to show that high fashion and sustainability can go hand in hand. It also offers several pieces made from recycled polyester fibers obtained exclusively from old clothes and textile waste collected in cooperation with the clothing collection program in our stores. Several pieces contain monomaterials, i.e. materials consisting of a single fiber instead of a blend. What's more, they have trims and embellishments that can be easily removed, allowing for a smoother recycling process once the piece reaches the end of its useful life.
One dress in the collection was made using a zero-waste cutting process, a jigsaw technique that eliminates fabric scraps from cutting tables and ensures minimal material waste. Equally groundbreaking is the use of innovative materials such as REPREVE® Our Ocean™ recycled polyester made from ocean plastic bottles. This was used to make a coat and a jacket from artificial fur. And after years of development, 100% recycled sequins made from plastic bottle waste adorn two dresses, leggings and a green jacket and skirt set.

Photo: H&M, Jan Berghauer
Digital collection
The line-up of the Innovation Metaverse Design Story collection goes through five AR filters (AR, or augmented reality, translated as extended reality), which are accessible via the H&M application. AR fashion lenses, created in collaboration with the Institute of Digital Fashion and powered by Snapchat, allow you to virtually try on pieces from the collection. This form of connecting the physical and digital worlds gives customers the opportunity to express themselves both in the real world and online.
More about the H&M Innovation Stories concept
The H&M Innovation Stories concept was launched in early 2021 and includes a series of themed collections dedicated to promoting more sustainable materials, technologies and production processes. Previous topics have included animal-friendly fashion and alternatives to animal-derived materials, circular design strategies and materials that recycle waste, or more sustainable paint techniques.

Photo: H&M, Jan Berghauer
VIEW THE ENTIRE GALLERY FROM THE CELEBRATION EVENING HERE

Source: Moda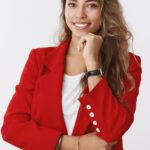 Mary William is a fashion writer at Gossipify, known for her in-depth analysis and commentary on the latest trends and industry news. She has a passion for fashion and offers readers a unique perspective with her writing. A graduate of Parsons School of Design, she has years of experience in the industry, and is always on the lookout for the next big thing.